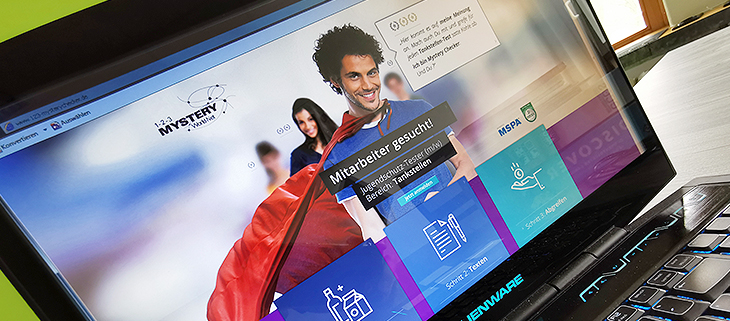 Digital market development – but how?
5
Min.
Websites – unimportant? Today? Similarly, it could be argued that the principal location of one's business is irrelevant. Because: the presentation on the Internet is the central place, which is accessible for customers and employees at any time, in order to inform themselves about services, activities, opinions, evaluations, events, offers or products – and they will remain so.

In fact, if we think about it, there is almost no company left that has not approached the World Wide Web in some way. Of course, the various social media that have mushroomed were also helpful. With this article we would like to help you a little bit to orientate yourself in the net of the net and to remain successful.
If one would like to position oneself rather conservatively-classically, certainly the normal website. This can be realized quite simply and cost-reduced with standard modules – but also quite individually with interesting search functions, show effects, modules for contacting, appointment management or product sales. There are almost no limits for the customer – under consideration of the legal framework conditions (especially regarding data protection and tracking/cookies). Whether you prefer a landing page (only 1 single page), a microsite (selection of a few pages), a website (complete company presentation) or an online shop (portal to sell your products) is ultimately up to you. But always keep in mind: The normal user does not have much time – therefore focus your content on essential and especially meaningful topics. Bundle messages and create interesting ways without large intellectual access barriers to meet the need, the benefit of their customers.
In addition to the website, there is another – more content-driven – way to present yourself on the Internet: the Blog, the Current section on their website. One of the oldest types of social media, this form – as the name suggests – tends to be used by news agencies, online newspapers, investigative journalists and, of course, the "blogger" (meant as an opinion leader). The blog impresses with building blocks that dwarf the online visibility of a normal website. Mentioned here are among others: Keywording, search terms, categories, teaser texts, structured main texts, comment and dialogue functions and, as a result, the x-fold higher chance of being listed in the top positions in search engines (especially Google). At the same time, a well-maintained blog gives you a valuable distinction: you'll be perceived as an expert rather than a marketing-driven product salesman.
When you talk about digital market development in a very innovative way, of course the social media channels. And there truly is an abundance of you. Their purpose is as varied as their number. Whether you want to publish or share information, actively participate in discussions, collaborate or network more closely with your team or customers, or simply send messages – everyone will find a suitable interface in this digital marketplace. From A-Z, virtually everything is represented.
But which of them are important?
Very clear answer: those that best support your marketing strategy and use their target audience. From our point of view Instagram (Increase image/awareness via image), YouTube (Reviews, documentaries, product advertising, news via film), twitter (share short messages in real time), Facebook (Building a Community), LinkedIn (Recruiting & Networking) has proven itself. Of course, there are other channels that address specific target groups. But we will be happy to show you in a personal presentation.

However, they all have one thing in common:
If there is a clear simple strategy and project managers with the appropriate empathy, the approach of a consistent and unified presentation of your company / product will be facilitated, if not surpassed. We have often experienced the following scenario: at the beginning, customers dive enthusiastically into the topic in view of the sheer abundance of possibilities. Things have to be clicked, tried, installed, pushed, modified, changed, and things presented that don't quite fit ideally with the company's philosophy. It is not as suggested in many "commercials" that everything is automatically ready at the push of a button. Content (copy & keywords), images, videos and structures need to be generated that appeal to the team and your customers. An individual, manual, partially automated process, adapted to the practice, not out of the drawer, fulfils this clearly and continuously.
To achieve true online visibility (image, awareness, traffic, customer intimacy or opinion leadership) and downstream sales growth, three things are required. First: effective self-involvement (1 hour per week) – based on a simple real thematic strategy, secondly: Perseverance until you address the right topics of your target group and thirdly: Trust. Give the staff and brand makers the responsibility of having built the website, blog or social media channels for you- even if it means a small monthly budget. Only include people who have been properly onboarded and have become stakeholders. It is not about who has the most experience and who is right, but about trust in a team that works together in an appreciative manner and can rely on each other. These teams are emerging more and more often.
Together with the customer, we have already implemented countless successful digital positioning projects. For Audi, Airbus, frei Apothekenkosmetik, DAV Summit Club, BREMA Werk, DIEHL, DENNEC, Certa Systems, BoardXperts, Campus FES, quer.kraft, OECHSLER, HumanOptics, GAUFF, Affenwald, Flexico, ATU – just to name a few. Let us trust each other to implement the complete package together and sit back and relax. The bundled competence of internal and external doers and experts is better than the sole external agency or the single implementer:in intern.
To a good success.
Your 2be_TEAM
Further information:
https://2be-markenmacher.de/referenzen//brema-werk.html
https://2be-markenmacher.de/referenzen//dennec.html
https://2be-markenmacher.de/referenzen//airbus-elearning-und-onlinesuche.html
https://2be-markenmacher.de/referenzen//engelbreit-und-sohn.html
https://2be-markenmacher.de/referenzen//dav-summit-club.html
Curious now?
Our contact person will be pleased to help you:


Wolfgang Eck
+49 (0)911 / 47 49 49 49
eck@twobe.de
https://2be-markenmacher.de/wp-content/uploads/2021/05/teaserbild-digitale-markterschliessung-2-2be-die-markenmacher.jpg
321
730
Matthias Brinkmann
https://2be-markenmacher.de/wp-content/uploads/2021/06/logo-twobe-white.png
Matthias Brinkmann
2021-05-07 09:30:55
2021-10-19 10:45:14
Digital market development – but how?